Simplify Recruiting
Take the guesswork out of your recruiting strategies. Adaptive's experienced recruiters equipped with robust data have the right formula in place.
Receive Quality Candidates
Recruiting with retention in mind prioritizes
quality over quantity.
Invest Confidently
Recruiting is not an inexpensive journey. Rest assured, your investment is treated like our own as our clients will attest.
Adaptive Medical Partners has proudly served well-known healthcare clients such as:
We're here to help
Is your organization being impacted by the physician shortage? Are you frustrated because you are working with rookie recruiters from your partner firm? Tired of spending exorbitant amounts of money bringing in multiple candidates?
Our advanced technology and extensive medical recruitment experience help us form real, lasting partnerships.
Long Term Partnerships

Experienced Recruiters

Right Candidates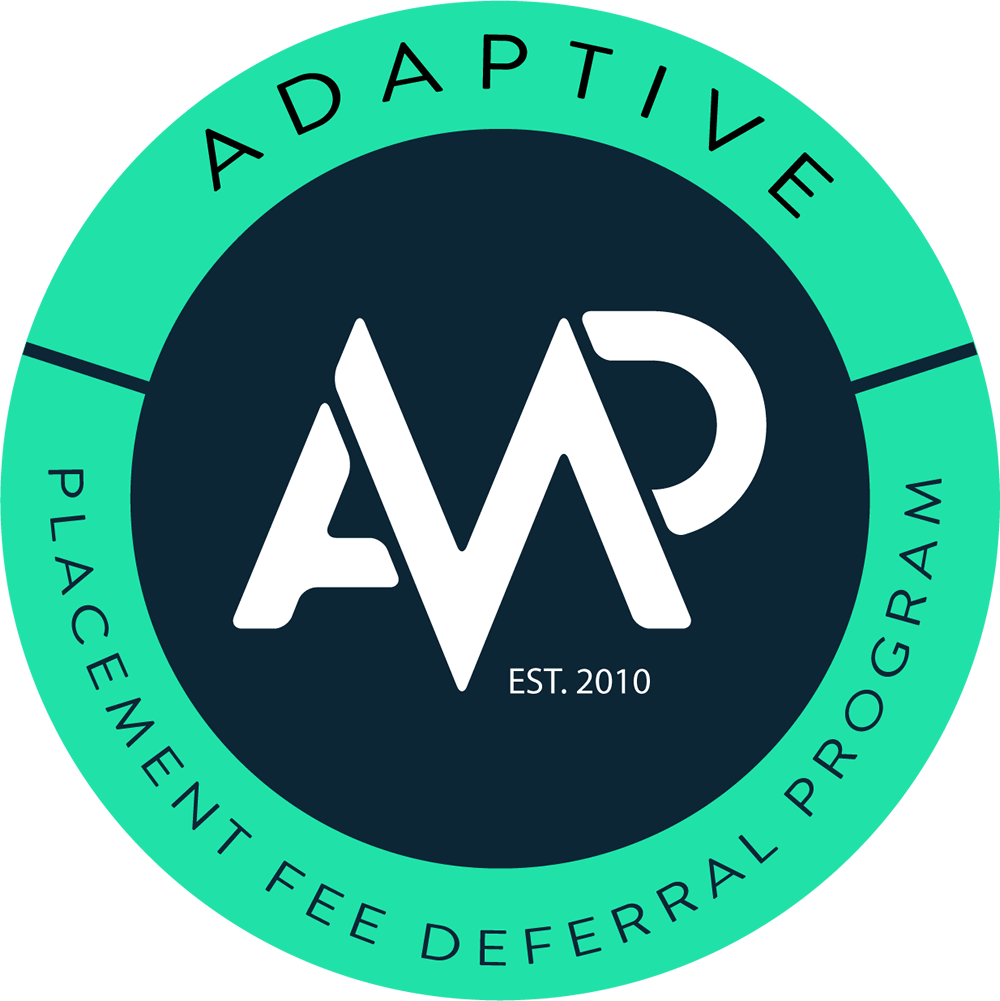 "There is a difference between fit versus fill. Rest easy in the promise that we care about retention and fit. The long track record of successful placements and faith in our team has led to the "Placement Fee Deferral Program". Only pay half of the placement fee until your new candidate has proven to be fit for 90 days."-David Fontenot, CEO and Co-founder
Any organization, any speciality
We place candidates in every specialty for all types of medical organizations.
Any organization, any speciality
We place candidates in every specialty for all types of medical organizations.
Hospitals
Regardless of size or affiliation, every hospital AMP partner's with is unique. Our dynamic recruiting strategies start with identifying and understanding what your needs are, then crafting a process to deliver the outcomes you expect.
FQHCs
AMP believes that now, more than ever, Federally Qualified Health Centers are the backbone of our healthcare system. Our experienced recruiters understand how to identify candidates who appreciate your mission and are motivated to care for the underserved.
Groups
AMP understands that recruiting to a group is different than recruiting to a hospital-based practice. Adding an associate or partner to your group is a significant investment, so it's imperative that you partner with a firm that recognizes the importance of finding the right candidate.
Academics
Be it candidates with tenure looking for a change or ambitious physicians who are passionate about advancing their careers as a thought leader with your institution, Academic recruiting is extraordinarily challenging due to a limited and highly competitive talent pool. As the industry's leader in innovation, advanced technology, and recruiting techniques, AMP is the logical recruiting partner for institutions like yours who are shaping healthcare for our future.
Get your AMP Score today.
It is the Central Intelligence to your battle plan.
The AMP Score™ is the new, industry-standard recruitabilty score that quickly determines how easy or hard your open positions will be to fill with quality doctors.
Takes less than 5 minutes
Completely anonymous
Completely free
Get my AMP Score Now

What our Clients and Physicians are saying:
Colleen Ryan, MD
I recently concluded a successful job search thanks to Adaptive Medical Partners. When I just began looking, I was inundated with recruiters and realized that many of them really knew very little about the jobs they were promoting and the physician market. Man had little to no knowledge on the facility they were representing. Adaptive's recruiters, on the other hand, not only knew the job requirements, but were well acquainted with the community. I would not have considered this job if I had read about it in an advertisement. Adaptive was able to point out the aspects of the job that were unique and met my criteria. In actuality, it was the right job for me, but needed the right person to promote it. I also felt that the recruiter took the time to get to know me as a person, and understand what I was looking for. I felt that he was working for me as well as the hospital. I'm very happy with the results of our collaboration.
CEO, Hospital
Our recruiter with Adaptive Medical Partners was able to coordinate an onsite visit with our ideal candidate. This candidate is a perfect fit! Their toddlers would love the farm land and the wife wants horses.
Thank you again Adaptive for one of the best candidates I have met in over 10 years!
HR Director, FQHC
Illinois
Working with Adaptive has been such a positive experience from the beginning to the end. I say end because we were able to find the perfect fit for the position. At the beginning, we made a plan that included a timeline and process as to what we can expect. It turned out to be much faster than planned which was a bonus for us.
What makes us different?
Experienced Recruiters
You will work with experts. On average, our recruiters have 11 years of experience. This well surpasses the industry average.
Advanced Technology
From database to communication tools, along with the human capital, manning this advanced technology is unmatched in the market.
Adaptable Process
Every search is unique, so the process must be dynamic and adaptive as well. That's why every search begins with a strategy session to inform the process to achieve a quality placement in the shortest timeframe.