Simplify Recruiting
Take the guesswork out of your recruiting strategies. Adaptive's experienced recruiters equipped with robust data have the right formula in place.
Receive Quality Candidates
Recruiting with retention in mind prioritizes
quality over quantity.
Invest Confidently
Recruiting is not an inexpensive journey. Rest assured, your investment is treated like our own as our clients will attest.
Adaptive Medical Partners has proudly served well-known healthcare clients such as:
We're here to help
Is your organization being impacted by the physician shortage? Are you frustrated because you are working with rookie recruiters from your partner firm? Tired of spending exorbitant amounts of money bringing in multiple candidates?
Our advanced technology and extensive medical recruitment experience help us form real, lasting partnerships.
Long Term Partnerships

Experienced Recruiters

Right Candidates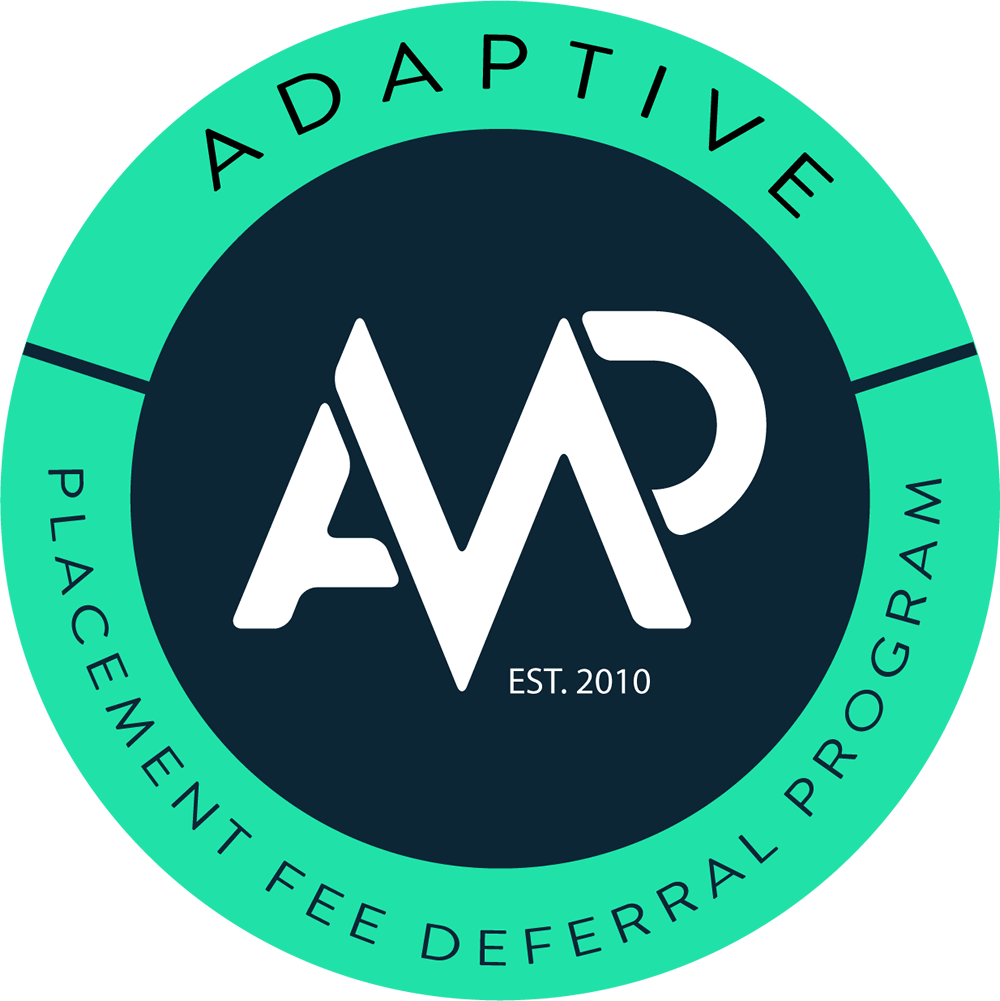 "There is a difference between fit versus fill. Rest easy in the promise that we care about retention and fit. The long track record of successful placements and faith in our team has led to the "Placement Fee Deferral Program". Only pay half of the placement fee until your new candidate has proven to be fit for 90 days."-David Fontenot, CEO and Co-founder
Any organization, any speciality
We place candidates in every specialty for all types of medical organizations.
Any organization, any speciality
We place candidates in every specialty for all types of medical organizations.
Hospitals
Regardless of size or affiliation, every hospital AMP partner's with is unique. Our dynamic recruiting strategies start with identifying and understanding what your needs are, then crafting a process to deliver the outcomes you expect.
FQHCs
AMP believes that now, more than ever, Federally Qualified Health Centers are the backbone of our healthcare system. Our experienced recruiters understand how to identify candidates who appreciate your mission and are motivated to care for the underserved.
Groups
AMP understands that recruiting to a group is different than recruiting to a hospital-based practice. Adding an associate or partner to your group is a significant investment, so it's imperative that you partner with a firm that recognizes the importance of finding the right candidate.
Academics
Be it candidates with tenure looking for a change or ambitious physicians who are passionate about advancing their careers as a thought leader with your institution, Academic recruiting is extraordinarily challenging due to a limited and highly competitive talent pool. As the industry's leader in innovation, advanced technology, and recruiting techniques, AMP is the logical recruiting partner for institutions like yours who are shaping healthcare for our future.
Get your AMP Score today.
It is the Central Intelligence to your battle plan.
The AMP Score™ is the new, industry-standard recruitabilty score that quickly determines how easy or hard your open positions will be to fill with quality doctors.
Takes less than 5 minutes
Completely anonymous
Completely free
Get my AMP Score Now

What our Clients and Physicians are saying:
Robert Ruiz, DDS
It is my pleasure to write a reference letter for Adaptive Medical Partners and the excellent treatment I received during my interview process.
My recruiter was very detailed about the interview process and explained every upcoming event to make sure I was prepared for the day of. They made sure my interview process went well at every step by making a personal phone call to me. If something needed more clarification, they took the extra step to do so for both parties involved. He showed concern about all details including helping us find work for my wife by getting work interviews in San Angelo before our arrival. In the final process of my interview, we met in person, face to face, and received valuable tips from our recruiter on how to conduct a smooth interview process with our potential employer. The tips were much appreciated since I had not interviewed in over 25 years. Adaptive Medical Partners offered written addresses, phone numbers and detailed maps on who to call to make my interview go very smoothly. My overall experience with AMP was excellent and the service I received was awesome.
I am very happy now working in my new job position here in San Angelo. I would recommend their services to any business for recruiting and finding new employees.
Neurologist
My dealing with Adaptive and the recruiter assigned to me was by far and away much timelier and more professional than my previous experiences. Adaptive Medical Partners exceeded immeasurably any dealing I have had with other recruiting agencies including Merritt Hawkins whom we also worked with during this time.
Their attention to service and detail continued with constant check-ins to be sure all was moving along and they offered their assistance in any way to facilitate our move and transition.
Anton Sisante, DO
I had the pleasure of obtaining my new position through the help of Adaptive Medical Partners and their recruiting team. Compared to recruiters from other firms I have connected with, Adaptive Medical Partners has been the most helpful and proactive in assisting me with my job search. Their knowledge of their clients through firsthand experience in meeting them gave me the confidence to trust that I would be the right candidate for the position. Moreover, they had been excellent in reaching out to prepare me prior to the interview for what to expect. This held true once I had my interview with the medical group and felt that who they were and what they offered met my expectations. I was able to successfully obtain a position with the group. Because of this, I can say there is no other firm I would trust in my job search apart from AMP.
What makes us different?
Experienced Recruiters
You will work with experts. On average, our recruiters have 11 years of experience. This well surpasses the industry average.
Advanced Technology
From database to communication tools, along with the human capital, manning this advanced technology is unmatched in the market.
Adaptable Process
Every search is unique, so the process must be dynamic and adaptive as well. That's why every search begins with a strategy session to inform the process to achieve a quality placement in the shortest timeframe.