Medical Recruiting Insights
Adaptive Medical Partners is leading the way for physician recruiting; in both placement and thought leadership, we are industry pioneers.
6
Jan
Where are the physicians?

Matt Davis | Healthcare Administrators, Physician Recruiting, Uncategorized

The shortage is making recruiting that much harder.
Imagine healthcare found itself in a situation where the number of open jobs is higher than the number of physicians available. If you are in healthcare, your imagination doesn't have to wander too far, as that is the exact scenario we are currently facing.
The shortage is a factor for every organization, no matter the size or location.
It doesn't matter if you are a major medical system with hospitals across the country, a small private practice, or a regional access hospital…this shortage is affecting your ability to fill open positions.
And it stinks!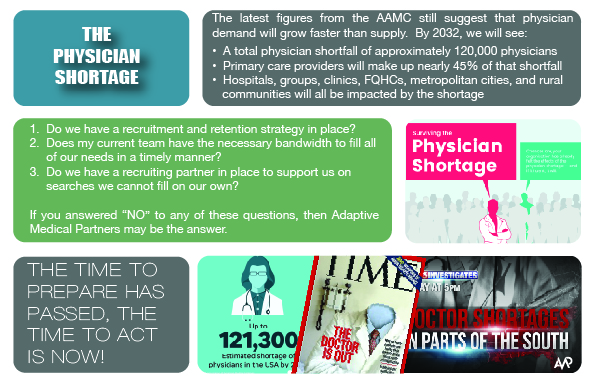 More than ever, you need a trusted and successful partner in your corner, working on your behalf. Our recruiters, with an average of 11 years of experience, are experts at navigating the physician recruitment waters and pointing you in the right direction.
They are equipped with data that can point them to physicians who are most likely to make a move and target them for your openings. Working with Adaptive Medical Partners will bring you success in filling your open positions.
Success like our client that serves patients in Indiana and Northern Kentucky just experienced.
Last week, we placed an Interventional Cardiologist and Hematology Oncologist for them in 106 business days.
To talk with a recruiting firm that cares about placements, contact us today.